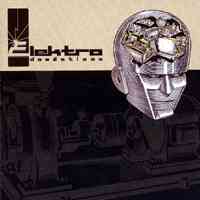 Esta es la portada del primer recopilatorio clásico de electro editado en España:
Elektro Domésticos
Se lanzó en 1998 en formato doble vinilo y compact disc. Fue editado por Tu Pierdes, un sublabel del primer sello de hip hop español, Yo Gano/SuperEgo.
El tracklist fue el siguiente:
A1 Zeta & Khosmaker - Intro
A2 Zeta - Power Moves
A3 Khosmaker - The Man Machine
A4 N-Fecto - Un Breaker, Un Movimiento
A5 Mookie - Tetsuo Mutation (Parte Uno)
B1 Teen Marcianas - My Fist The First
B2 Elektrosher - This Is Elektro (2 Loose Solution)
B3 Metal Artefakt - Vacuum (4:25 Version)
B4 Sace 2 - Alegoric
C1 Carlito's Circus - Tamagotchi Is Dying Slowly
C2 Kapi - Psicofastofoide
C3 Hippaly - Planeta Hippaly (6:15 Version)
C4 Optimus Beat vs. Supercinexcene - Elektro Dos
D1 Kenoby - Terminus '79
D2 Arcade - Jupiter (El Lugar Es Fenomeno)
D3 Split DJ - Impulso De Electron
D4 Quinientosquince vs. Supercinexcene - Bajo Vientre
Esta calificado en Discogs con un 5/5.
Esto era lo que podías leer en el libreto interior:
"Elektro music, since its beginnings, has always been a close relative of Hip-Hop, and Hip-Hop has been the musical genre at the root of our family of record labels (Yo Gano, Tu Pierdes...) from the start.
20 to 25 years ago there was a little distinction in sound between Hip-Hop and Elektro. The use of the first drum machines together with the discovery and first use of synthesized sounds proceded the use of samplers, which for a long time has dominated the musical production of Hip-Hop.
This album has tried to capture the essence of early old school Elektro, but while it draws on 20 years of musical history in this genre, it also opens the music up to the possibilities created by new technlogies.
We have tried to provide on this compilation a a taste of what is being created in our inmediated environment. Many of the featured artists are absolutely underground and this will be the first place that you have heard their names. Others are stablished names or are making promising debuts on the electronic music scene. What is common to all is their undeniable love for elektro music"
El disco fue un éxito absoluto, vendió muchas más copias de lo esperado, obtuvo un gran reconocimiento de la prensa especializada y obtuvo mucho tiempo de emisión tanto en TV como en radio, especialmente en Siglo 21, Radio 3.
Debido al exito que cosechó Elektro Domésticos Alek Stark (conocido entonces como Elektrosher y Khosmaker) propuso a Sergio Aguilar, propietario de Tu Pierdes/Yo Gano, la creación del primer sello español dedicado a editar grabaciones exclusivamente electro.
El sello se llamó HEADSPIN y se lanzarón los trabajos personales y remixes de Moockie, Zeta, Sace 2, Koa, Khosmaker y Kapi aka Downrocks, Groof y Oscar Mulero.
Elektro Domésticos fue con toda seguridad la semilla necesaria para la creación de la ya establecida escena electro española. Para muchos artistas españoles es un disco absolutamente imprescindible para entender la evolución de la música electrónica hecha en España.
Nuevos músicos de la talla de Annie Hall reconocen este disco clásico como una de sus mayores influencias en sus primeros años, para otros como Alek Stark, Downrocks, Sace 2 o N-fecto, Electro Domésticos fue sin lugar a dudas una parte importante de su cimentación como artistas.
Elektro Domésticos 2 será sin duda una segunda parte que pondrá en relieve la evolución exponencial de esos artistas que ya aparecieron en el disco del 98 pero también nos dará una medida del gran momento por el que pasa la electrónica española.
Esta segunda parte conserva el sonido añejo del primer electro pero también pone de manifiesto la gran variedad de estilos que este genero puede llegar a ofrecer más de treinta años después de su primera eclosión.
Elektro Domésticos 2 estará disponible a partir del día 20 de Julio en tres ediciones completamente diferentes en formato triple vinilo en color y doble CD carbono. También se podrá comprar en formato digital en mp3 y loss less.